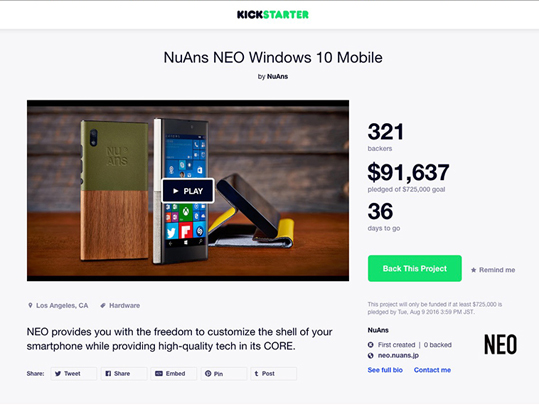 NuAns NEO Windows 10 Mobile: An Impressive Smartphone Device.The NEO's dynamic design comes stocked with the latest technology.
Los Angeles, California, June 29, 2016
For years, Microsoft Windows has found itself playing catch-up to the Android and Apple OS. However, with the launch of the Windows 10 Mobile OS, superior smartphone software and experience emerged. Microsoft was able to create a singular platform that will connect all windows devices together. With the addition of Windows Continuum, NEO users will be able to instantly connect to any TV or monitor and project their desktop; making the NEO a portable computer in your hand. With the ability to sync your desktop directly to your NEO device, users will be able to edit any existing documents saved to the cloud.
Besides adopting the Windows 10 Mobile platform allowing NEO users to seamlessly sync their desktop to their smartphone device, NuAns NEO comes equipped with the latest Qualcomm octa-core processor: SnapDragon 617. This superior processing chip allows NEO users to stream high-definition movies, work on documents, and enjoy stunning download speeds all with battery life to spare.
If that is not impressive, in anticipation of the universal change in ports that will be used to charge most tablet and smartphone devices, the NuAns NEO has adopted the USB Type-C ports into every NEO device. In order to simplify the cable, the NEO will allow you to plug into the port without restrictions on the direction of the plug-in. You will immediately feel the efficiency and satisfaction of the cable at first use.
To add to the stunning technology that comes standard with the NuAns NEO, the outer shell will surely impress any NEO users. The TWOTONE cover offers 64 interchangeable patterns allowing every user to express their very own unique style; without adding a bulky case to the outside of their device. Want to protect the screen? NEO comes with 8 unique FLIP style cases; each equipped to hold up to 3 cards and protects the screen from damage.
The NuAns NEO will be available to select countries outside of Japan via our Kickstarter campaign which will launch Friday, July 1, 2016. Be sure to check out the great rewards and discounts available prior to the NEO hitting wireless retail locations around the world. For more information, please visit: NuAns NEO Website
---
<NuAns>
In your everyday life, digital devices are always with you. Leading-edge digital devices that bring convenience and warmth to your life and that blend into your relaxing moment in a living room or bedside. "NuAns" is a new solution from Simplism and TENT.
URL: www.nuans.jp
Facebook : www.facebook.com/NuAnsGlobal
<Simplism>
Simplism is a company based in Japan focused on designing and developing quality accessories and peripherals for Apple and other smartphone and tablet products. The logo symbolizes our vision: to design lifestyle enhancing accessories that are "simple" with a "plus". The "+" reflects the unique value our carefully crafted products represent to our customers.
URL: www.simplism.com
Facebook: www.facebook.com/simplism.jp
<TENT>
TENT is a creative unit, which designs products with the theme: "pleasing the eyes and the more you use, the more you love." and based on this concept, provides variety of product designs from tableware, home electronics to interior goods.
URL: www.tent1000.com
---
<Trinity, Inc.>
Trinity, Inc. is Japanese company focused on designing and developing quality accessories and peripherals for Apple and other Smartphone and Tablet Product, called Simplism with fined design and user-friendly features.
[ Contacts ]
Trinity International Sales Team
TEL: +81 48 299 3433