– For Comfortable Digital Life
Customize yourself with 72 patterns.
The first new smartphone "NEO" from NuAns-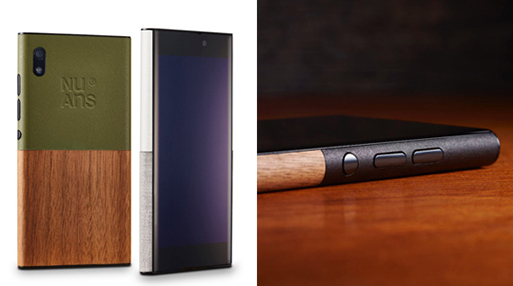 – Pre-sale online from November 30th (Mon), Original design hardware with the newest OS Windows 10 Mobile. –
───────────────────
Trinity, Inc., Japanese manufacturing company specializing in mobile and tablet accessories, announces the launch of "NEO", the first new smartphone from NuAns which is their own digital lifestyle brand launched in 2015. The pre-sale will be started on its website: neo.nuans.jp, from today, November 30th, Monday. It will be started to be shipped out from the end of January in 2016 and will be sold at Isetan, LOFT first, gradually spread to other stores all over Japan.
The newly launched NuAns NEO is the very first smartphone for Trinity, Inc.. NEO shares the same concept with other NuAns products. It proposes items that blends more into the people's daily lives and offers comfortable degital life to users.
Characteristics of NuAns NEO
The smartphone from NuAns should be "comfortable to use" for every user. NEO project team started to clarify each one of the stress which smartphone users always have. "the hard and cold device", "doesn't fit into the living space", "the battery charge remaining" etc, NuAs NEO aimed to solve these stress which people usually unconsciously exposed and originally designed its body and circuit inside.
・CORE concept which satisfies users' variety of sense of value.
・TWOTONE with 64 patterns of cases and FLIP with 8 variations comes with 2 card pockets.
・Easy to use camera unit with wider angle of view and appropriate brightness.
・High definition 5-inch-display which is handy to hold by one hand.
・SIM-free: adjustable to most of the Japanese main bands.
・ Compatible with the contactless IC cards and NFC antenna.
・ Large capacity and quick-charge battery, which lasts for 2 days.
・ Newest OS Windows 10 Mobile.
・ Next generation standard USB type-C.
Website: neo.nuans.jp
NEO CORE
The most remarkable characteristics of NuAns NEO is the CORE concept. It is to put outer covers as users like to the core hardware smartphone. There are two types of covers (cases), TWOTONE with various colors and materials two-piece covers, and FLIP with note flip style. Users can choose the patterns when they purchase or can buy separately. This concept has been developed based on the face that most of the smartphone users put cases on their devices, and also from the perspective of Trinity, which has been working on the smartphone accessories in the past 10 years.
TWOTONE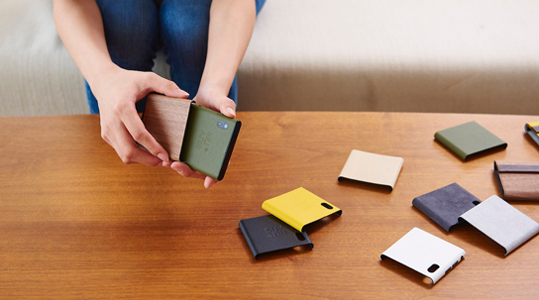 There are 8 patterns for upper case, 8 patterns for lower case, 64 patterns in total. With these cases, it is possible to have user's originality. Cases can be purchased separately. TWOTONE is made in Japan with Japanese special techniques.
FLIP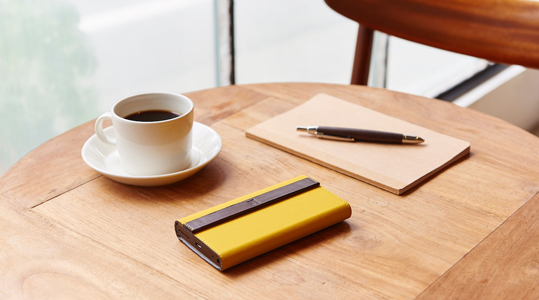 It is a flip note type case with 2 card pockets. Just as TWOTONE, NFC card can be stored. There are 8 cases with different colors and materials. It also has a self-stand function which suitable for watching videos with it.
Background and Future of the development for NuAns NEO
Smartphone become a necessary item in our lives. Every year the phone is getting thinner and bigger, and increase high price brand. Those function are pretty enough for user. This is the background to release the NEO this time.
In those situations, NuAns focus on to seek not only the function, but also the comfort and relax to blend into our lives with using advanced technology. For instance, we made the phone compact so that we can have a card stock space, and chose round-shaped design to fit your hand.
In addition, smartphone is used on much more creative scene, which is studying, working and creating because the work style has changed, such as BYOD (Bring Your Own Device). We selected Windows 10 mobile to offer the united functions for the business person who use both smartphone and PC, to offer the united functions, NEO can match to current work style to users.
NuAns will publish the 3D data for TWO TONE, and FLIP to make the company or person be able to design and produce for NEO compatible cover.
We have planed that we hold the touch and try event for users in Tokyo on next February.
About NuAns
Want to take it, and to keep your side. If the best cutting-edge accessories have something to feel those, it can blend into your life. NuAns is the brand which offer lifestyle related products with seeking a design and comfort. It started on April, 2015 as joint project between Simplism (www.simplsm.jp ) which is Trinity's brand and produces and sells the smartphone related goods, and TENT (www.tent1000.com) which is creative unit. 5 products of NuAns which are BANDWIRE(Lightning Cable), TAGPLATE(Mobile battery with Lightning cable), ROOLDOCK(Cradle Type mobile battery with Lightning), TILE(Light with Lightning Dock), CONE (Light and Speaker with Lightning Dock)won good design award in 2015.
※We have Publicity photos (High resolution Ver. for printing/ for web)
※By the official release for PRELIMINARY / Windows 10 Mobile, it might change some features.
Website: neo.nuans.jp
Contact for Media Publication
Trinity, Inc.
+81 48 299 3433
Contact
For further information, please contact us.
intlsales@trinity.jp
tel: +81 48 299 3433
───────────────────
<NuAns>
In your everyday life, digital devices are always with you. Leading-edge digital devices that bring convenience and warmth to your life and that blend into your relaxing moment in a living room or bedside. "NuAns" is a new solution from Simplism and TENT.
URL: www.nuans.jp
Facebook : www.facebook.com/NuAnsGlobal
<Simplism>
Simplism is a company based in Japan focused on designing and developing quality accessories and peripherals for Apple and other smartphone and tablet products. The logo symbolizes our vision: to design lifestyle enhancing accessories that are "simple" with a "plus". The "+" reflects the unique value our carefully crafted products represent to our customers.
URL: www.simplism.com
Facebook: www.facebook.com/simplism.jp
<TENT>
TENT is a creative unit, which designs products with the theme: "pleasing the eyes and the more you use, the more you love." and based on this concept, provides variety of product designs from tableware, home electronics to interior goods.
URL: www.tent1000.com
<Trinity, Inc.>
Trinity, Inc. is Japanese company focused on designing and developing quality accessories and peripherals for Apple and other Smartphone and Tablet Product, called Simplism with fined design and user-friendly features.
[ Contacts ]
Trinity International Sales Team
TEL: +81 48 299 3433