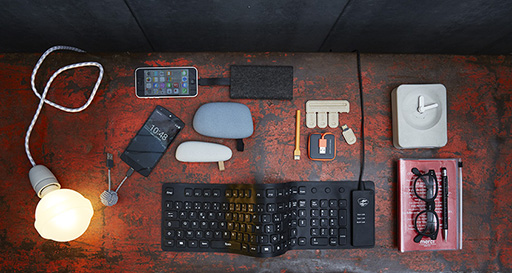 Photo: courtesy of "merci"
– NuAns is the new answer to bringing the natural world around us into the comfort of our homes.-
───────────────────
Saitama, Japan, November 9th, 2015
Trinity, Inc., Japan's fourth largest market share company specializing in mobile and tablet Apple accessories, announces that the TAGPLATE: a this mobile battery that contains a Lightning cable for charging iPhones (Black square product in the middle top of the attached photo) is now in the Christmas decoration of the famous French select shop in Paris. The installation starts from 9th in November.
【Place】merci : 111 boulevard Beaumarchais 75003 Paris
The tag that is attached to the battery body becomes a cable, so it's easy to take out for use and easy to put back in for storage. All metal components are easily hidden upon storage, so you don't have to worry about the cable damaging any of your other items. One full battery charge will charge an iPhone 6 approximately two times. For more information regarding the NuAns brand, please visit the links below.
───────────────────
<NuAns>
In your everyday life, digital devices are always with you. Leading-edge digital devices that bring convenience and warmth to your life and that blend into your relaxing moment in a living room or bedside. "NuAns" is a new solution from Simplism and TENT.
URL: www.nuans.jp
Facebook : www.facebook.com/NuAnsGlobal
<Simplism>
Simplism is a company based in Japan focused on designing and developing quality accessories and peripherals for Apple and other smartphone and tablet products. The logo symbolizes our vision: to design lifestyle enhancing accessories that are "simple" with a "plus". The "+" reflects the unique value our carefully crafted products represent to our customers.
URL: www.simplism.com
Facebook: www.facebook.com/simplism.jp
<TENT>
TENT is a creative unit, which designs products with the theme: "pleasing the eyes and the more you use, the more you love." and based on this concept, provides variety of product designs from tableware, home electronics to interior goods.
URL: www.tent1000.com
<Trinity, Inc.>
Trinity, Inc. is Japanese company focused on designing and developing quality accessories and peripherals for Apple and other Smartphone and Tablet Product, called Simplism with fined design and user-friendly features.
[ Contacts ]
Trinity International Sales Team
TEL: +81 48 299 3433