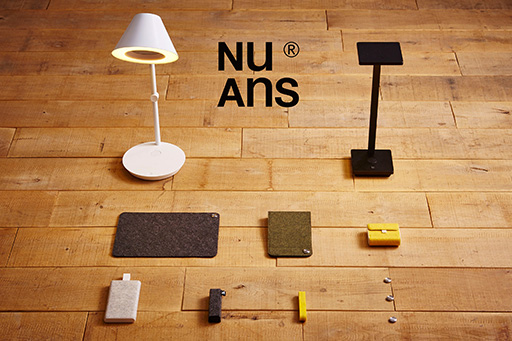 – New solution for digital lifestyle with convenience and comfort –
Niiza, Saitama –Trinity, Inc. Japanese Mobile and Tablet accessories manufacturing company announced the new brand, "NuAns", coming to the European market at Maison & Objet in France form this September 4th to 8th. The "NuAns" booth will be at "now!" section in hall 7 which many trendy and top designed products will be lining up.
───────────────────
[ M&O PARIS Info ]
September 4-8, 2015
Hall: Hall 7 — Stand C194
URL: http://www.maison-objet.com/en
───────────────────
< "NuAns" Background and Concept >
"NuAns" is a new solution to users' lives with digital devices from Trinity's original brand "Simplism" and a creative designers unit "TENT". The purpose of "NuAns" is to provide convenience and comfort in the modern space without breaking the ambience of the existing atmosphere. The Internet and digital gadgetry has become part of our everyday lives accelerated by the iPhone and other smartphones. However, there are not many products, which fit into that life while seamlessly blending with the sense of style. "NuAns" products are designed by not only their initial appearance or function but also the subtleties of texture, ambience, comfort, relaxation, and convenience.
[ Designs and Materials ]
To protect the product itself and also your personal belongings, which would come in contact with the "NuAns" products, they are designed not to expose any metal parts to the outer surface. Taking advantage of the softness of elastomers used for some of the products for design and function, the 3D texture was processed on the surface with the familiar and more welcoming look of fabric rather than a cold industrial product. For those extended use products, aluminum or stainless materials were selected to be tough enough to stand up to rigorous usage. The anodized aluminum processes are used on the surface and grain or spin finish are added to small parts. The specially made felt is used for some of the "NuAns" products to provide a comfortable tactile sense and also it is a heat-resistance and fire-resistance one necessary for a digital device standard.
───────────────────
< About Trinity, Inc. and TENT >
Trinity, Inc. is Japanese company focused on designing and developing quality accessories and peripherals for Apple and other Smartphone and Tablet Product, called Simplism with fined design and user-friendly features. TENT is a creative unit, which designs products with the theme: "pleasing the eyes and the more you use, the more you love." and based on this concept, provides variety of product designs from tableware, home electronics to interior goods.
Trinity, Inc. www.trinity.jp
Simplism www.simplism.jp
TENT www.tent1000.com
[ Contacts ]
Trinity International Sales Team
TEL: +81 48 299 3433